Frank Holmes of US Global Investors' latest SWOT analysis for gold
Strengths
The best-performing precious metal this week was platinum, climbing 3.03 percent.  Absent any real market moving news, the lift was likely from short covering as platinum prices have been off as much as 30 percent this year.

After the losses seen in gold following the Federal Reserve's rate hike last week, Bloomberg reports that some traders closed their bearish positions on the metal before year-end on speculation that physical purchases may pick up. Further, Bloomberg notes that the put-to-call ratio on SPDR Gold Shares has reached its lowest level since 2008, perhaps indicating that investors who were betting on further declines in gold prices are losing enthusiasm for this trade. Hedge funds reduced bets for a third week that the dollar would advance, according to Bloomberg. The currency is headed for its biggest monthly decline since April. According to Shane Oliver of AMP Capital Investors: "The bet is over for the U.S. dollar."
Finland's foreign minister, Timo Soini, announced that his country should never have joined the euro, according to a Brown Brothers Harriman report. Soini announced during a press conference that Finland could have weakened its currency had it not adopted the euro, adding that organizing a referendum on the currency means that the debate "will gather steam."
Weaknesses
The worst-performing precious metal this week was palladium, recording just a 0.09 percent gain. Bloomberg noted that car sales in China, which rebounded in October due to a tax cut, have not led to any price strength in palladium.

Three months after announcing its interest in redeveloping a gold mine in Ghana, Randgold Resources has pulled out of the Obuasi plan. Following the completion of a due diligence exercise into the mine, the company decided not to go through with its planned joint venture with South African firm AngloGold Ashanti. Randgold determined that the development plan doesn't satisfy its internal investment requirements.

Yamana Gold announced its decision to suspend the monetization of its Brio Gold subsidy, based on the context of current market conditions. In November, Yamana had announced it commenced a private placement of Brio common shares, according to a Canaccord Genuity report, which consisted of a primary offering by Brio and a secondary offering by Yamana. Cannacord's valuation assessment of Yamana's suspension reasons that "the lower multiple reflects the inability to conclude the monetization of Brio Gold."
Opportunities
The mine supply issue is coming to a head, according to Credit Suisse's 2015 Year-End Preview report. Reserve life has fallen from 14 to 10 years since 2011, and grades processed are 9 percent above reserve grade in 2015. The report continues by noting that gold is positioned to outperform the commodity complex next year as two more Fed hikes are priced in, physical demand should continue to be a source of strength and central banks will continue buying.

HSBC Research says there are two catalysts for gains in platinum in 2016, after touching seven-year lows: improved automobile and investment demand. Both platinum and palladium should benefit from limited supply growth and a weaker U.S. dollar, according to HSBC's report, as ample stockpiles may curb rallies.

Both Scotiabank and Paradigm Capital released initiation reports this week for Klondex Mines, following the company's announcement last week of its acquisition of the Rice Lake Mine near Bissett, Manitoba. Paradigm's report calls Klondex a "Four G Winner," highlighting grade, growth, geology and geopolitics, and concluding with a "buy rating" for the company. Scotia noted that investors can "Weather the Storm with This High-Grade Gold Producer" and went with a "Sector Outperform" rating.
Threats
In its analysis of the broad U.S. equity market this week, BCA Research explains that deflation now plagues more than half of the groups that they cover. An update on industry group pricing power shows that 32 out of 60 industries have had to cut selling prices, up from 26 in BCA's last update.  To further illustrate the underperformance of the economy, BCA provided a chart that shows each successive real GDP forecast made in the Conference Board Budget Outlook from 2007 through 2015 compared to actual real GDP.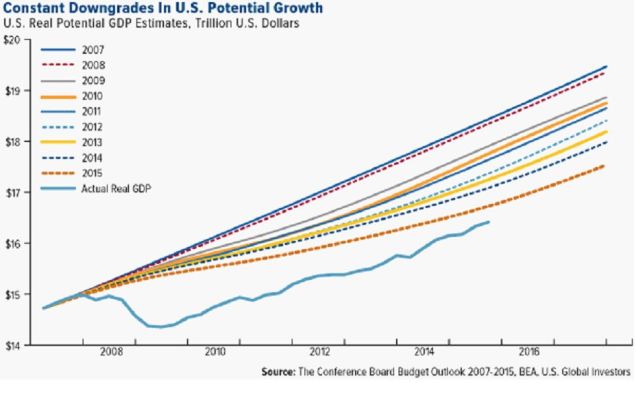 According to Financial Post data, 2015 could go down as the biggest year ever for metal streaming deals, as miners have raised $4.2 billion from 11 stream sales this year. This is almost double the amount raised in 2013, $2.2 billion, which was the second biggest year on record. One argument surrounding the dark side of metal streaming deals is that streams can eliminate exploration upside from a mine. In addition, John Ing, president and gold analyst at Maison Placements Canada, believes streaming is reminiscent of hedging. (This was all the rage in the gold industry in the 1990s, but has since become a huge liability).

Bank of America Merrill Lynch released a report on the high-yield gold industry, starting with its overview of select high-yield gold credits: Eldorado Gold, IAMGOLD and New Gold. After its consideration regarding production, asset quality, credit and financial strength, along with relative value, BAML says it is "hard to get excited about any of the names we discussed." The report continues by stating that, "given our BAML Commodity Team's view of headwinds facing gold prices, we do not find a compelling reason to own any gold miners' debt heading into 2016."