Ole Hansen* of Denmark's Saxo Bank comments on whether recent investment in gold may be too much too soon and suggests there could yet be a retracement back down to major support levels in the mid $1250s.  Article is republished from Saxo Group's TradingFloor website - to read original article click here 
Gold, silver retrace on Greek news; Gold support exists between USD 1,253/oz. and USD 1,255/oz; ETP investors increase holdings by 50 tonnes, Hedge funds buying gold.
Broad investor support for gold has returned following what have been viewed as gold-supportive actions from two European central banks during the past couple of weeks. First, we had the Swiss National Bank releasing the Swiss franc from its peg to the euro followed by the European Central Bank's announcement of a major quantitative easing initiative to combat deflation.
Following the Greek election result Sunday (which broadly went in the direction that the market had expected), we have seen both gold and silver give back some of their recent gains. The broad-based support mentioned above has come from both tactical traders such as hedge funds and money managers as well as investors using exchange traded products to gain exposure.
With most of the supportive news and actions out of the way, the near-term risk is now that gold could retrace some of its recent gains in order to determine just how strong the current support actually is.
Where is support?
The key level of support remains centered in a tight band between USD 1,253/oz. and USD 1,255/oz. where three major levels of support have converged: The 200-day moving average at USD 1253/oz., the October high at USD 1255.4/oz. and the 38.2% retracement of the January rally at USD 1254.4/oz.
It is often at times of adversity that the real strength of a market becomes apparent. Such a time could now unfold in gold over the coming days.
Source: Saxo Bank
During the past two months, hedge funds have been buying gold on a continual basis and as of last Tuesday this had triggered a 10.7 million ounce rise in the net-long position to a 25-month high at 14.6 million ounces.
Investors using exchange-traded products have increased holdings by 50 tonnes (or 1.6 million ounces) during the past two weeks with the SPDR Gold Shares (GLD:arcx) and iShares Gold Trust (IAU:arcx) receiving the bulk of this flow.
While gold is en route to record its best month in terms of a change in holdings since 2012, silver has seen a net reduction in holdings so far this month. A strong performance relative to gold at a time of weakness in industrial metals may have triggered some profit taking from investors who have remained very resilient during the ups and especially the downs seen during the past six months.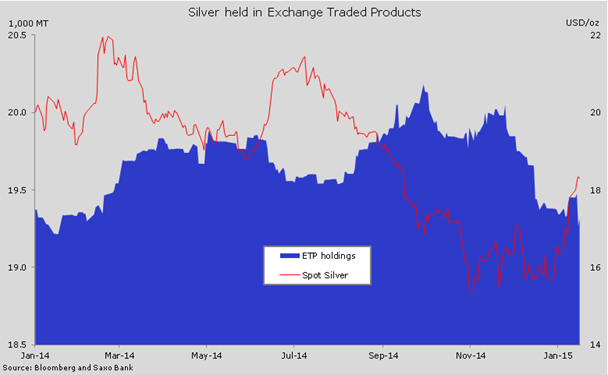 Weekly changes
"Ole Hansen is head of commodities strategy at Saxo Bank