by: Clint Siegner*
Platinum was once the most precious of metals. For decades, it traded at a premium to gold. The other platinum group metals – palladium and rhodium – barely registered on investors' radar screens.
Platinum lost its crown to gold in 2015. It was overtaken by the other PGM metals in recent weeks.
Given that platinum, palladium, and rhodium demand is largely driven by automobile manufacturing and the production of catalytic converters, one of these things is likely true; platinum is currently undervalued, or the other two have gotten ahead of themselves.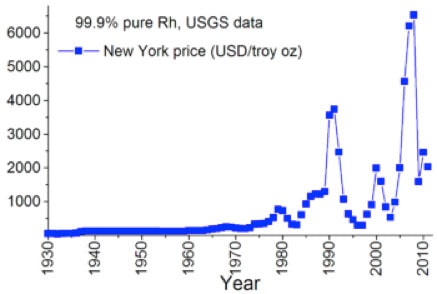 Rhodium is available primarily in 1 ounce bars. While the quantity of rhodium traded is by far the lowest among precious metals, market liquidity for that metal has seen a boost since 2008. There are now a couple of ETFs focused on the metal. Those ETFs may in fact be driving a good portion of the recent demand.
Editor's note:  The Platinum Group Metal  pricing patterns are primarily based on supply/demand fundamentals, not on rarity of the metals in the earth's crust.  Rhodium and palladium are running high as they are both in a substantial supply deficit situation while platinum supply and demand are much closer balanced.  Palladium, with a little rhodium, is currently the preferred catalyst for gasoline-powered internal combustion engine emission control catalytic converters, having largely succeeded platinum in this usage, but this was due to palladium being substantially less costly than platinum – that is until palladium's (and rhodium's) recent run.  The big question now is: is platinum, being the cheaper metal, going to make a dent in palladium's current predominance as the catalytic metal of choice for gasoline powered engines.  It is already the dominant catalytic metal for diesel exhaust emission control.